Before you go! Share this content on any social media platform

The government has planned this amount for 2019-2021.
The government has pledged funds from the federal budget to implement the draft law on guarantees of autonomous operation of the Russian Internet segment in the event of loss of access to foreign servers. This was reported by Interfax.
This amount is calculated for three years – from 2019 to 2021: in the first year, 597 million rubles were mortgaged, in the second year – 699 million rubles, and in the third – 546 million rubles. First of all, the money will go towards the creation and support of the Center for Monitoring and Management of a Public Communications Network.
An agency source added that "these funds are provided only for the start of this project." In subsequent years, the functioning of the infrastructure will require additional money from the federal budget.
On December 14, the State Duma offered to create an infrastructure for the operation of the RuNet in a situation if Russian operators could not connect to foreign servers. Experts at the government called the bill too expensive, but the Cabinet supported the idea, but asked to make several adjustments.
UPD: not 2, but 20 billion!
The Russian government will allocate 20 billion rubles for the implementation of the bill on the sustainability of the Runet, the author of the document, Senator Andrei Klishas, ​​told RIA Novosti.[next]
"The law on the budget provides funds for the implementation of the measures proposed by the draft law," said Klishas, ​​explaining that this is the creation of a Center for monitoring and managing a public telecommunications network.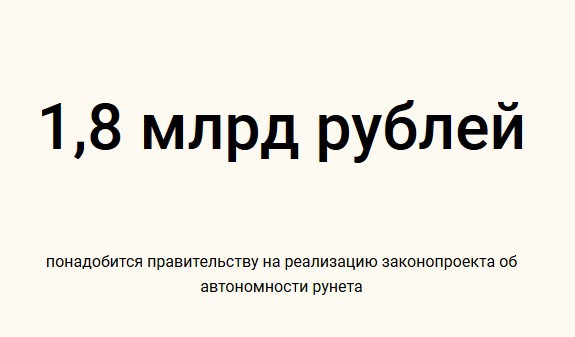 Before you go! Share this content on any social media platform

Source link